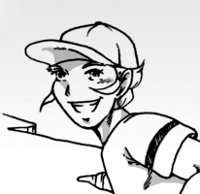 Sam is a Pettoishi trainer whose main Pettoishi is the lovable Picow. He was questing to try and find a way to turn Picow into a human, when Dhiar came along and helped them to find that very thing. Once Picow became human -- a boy whose appearance was drawn at least partially from Sam's own desires -- he opened Sam's eyes to who he really was and what he really wanted. Grateful for Dhiar's help, the two thanked him and went on with their newfound relationship.
Ad blocker interference detected!
Wikia is a free-to-use site that makes money from advertising. We have a modified experience for viewers using ad blockers

Wikia is not accessible if you've made further modifications. Remove the custom ad blocker rule(s) and the page will load as expected.