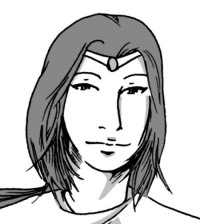 Opaliz is a Djinn and legitimate royal of the land dominated by the evil sorceror Rehzier. At his brother Lanimaz's urgings, he flees when Rehzier begins his overt bid to take over the land.
Rehzier is attended by his bodyguard Malion, who protects him from Rehzier's further assaults. However, later Dhiar fends off Malion and escorts Opaliz himself to the palace. Malion rejoins them all in time for Opaliz, Lanimaz, and all the rest to enjoy a happy ending and a restoration of the proper royalty.
Ad blocker interference detected!
Wikia is a free-to-use site that makes money from advertising. We have a modified experience for viewers using ad blockers

Wikia is not accessible if you've made further modifications. Remove the custom ad blocker rule(s) and the page will load as expected.